Event Review: By Any Means Necessary: A Spike Lee Joints Retrospective
After attending a 25th anniversary screening Spike Lee's Do The Right Thing, Danielle Dorky discusses the film's continued relevance and gives details on the panel moderated by John Singleton with Spike Lee and special guests.
Spike Lee's third feature film Do The Right Thing was released theatrically on June 30, 1989 – the same day as Tim Burton's Batman – when I was just three-and-a-half years old. I wouldn't actually see the film until I was a little older, but my childhood memories are colored with images of those familiar, blue VHS tapes, shelved in almost every home I frequented, and snippets of adult conversations lording the most recent, "Spike Lee Joint."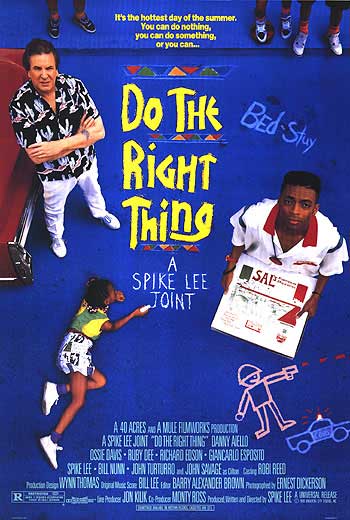 I remember my father explaining to me the meaning behind the name of Lee's production company, "40 Acres and a Mule", and realizing what he was reminding audiences of every time that logo appeared in the opening credits. Even before I became familiar with his films, I always understood Spike Lee as a director who understood me and people who looked like me, who told our stories earnestly, with humor and depth.
So when my friend and Unorthodox Tea Time co-host Cate Louie invited me to join her for a 25th Anniversary screening of Do The Right Thing, with a panel moderated by John Singleton starring Spike Lee along with select special guests involved in the film, I eagerly accepted.
We shuffled into LACMA' Bing Theatre on Friday night and took seats almost smack-dab in the middle of the audience, directly behind a stylish young gentleman in a suede newsboy cap who would partially obscure my view for the duration of the event. Shortly afterwards, Cheryl Boone Isaacs, the current President of the Academy of Motion Picture Arts and Sciences, took the stage to introduce the film and panel. The screening also marked the world premiere of a 35 mm print from the Academy archive.
John Singleton greeted the audience and spoke of seeing Do The Right Thing for the first time at the Pacific Theatres in Hollywood, when he was still an impressionable USC film student, and how affected he was by Lee's empathetic depictions of people of color. Just two years later, Singleton released his first film Boyz n the Hood, which earned him an Oscar nomination for Best Director.
Do The Right Thing casting director Robi Reed, actor Roger Guenveur Smith, music/lyrics writer Chuck D, production supervisor Preston Holmes, and former Universal executive Tom Pollock, along with man of the hour Spike Lee, joined Singleton onstage for a Q&A panel. Due to a pending flight departure, Singleton quickly addressed Chuck D, composer of the film's anthem, "Fight the Power." Chuck jovially complained about Lee's specific demands and their continued back-and-forth before they settled on "Fight the Power" because, as Chuck explained, "There's no way we were gonna fight the power, without doing the right thing."
When Singleton asked how a diverse, independent film with such controversial themes gets made, Lee was quick to credit entertainment lawyer Tom Pollock as the film's "unsung hero." Pollock reinforced how unlikely it is that a comparable film would be financed and distributed so widely today, and how even at the time, he didn't expect Do The Right Thing to be as commercially successful as it was.
One thing that is impossible to ignore when reflecting on the impact of Do The Right Thing is the amazing cast of actors, both legendary and until-then undiscovered. Robi Reed spoke of her first time seeing Rosie Perez, who happened to be dancing on a speaker at Funky Reggae at the time, and how despite initially envisioning a Black Tina, they invited her to audition (which was held in Reed's living room) and immediately knew she was perfect for the part. In addition to giving Rosie Perez and Martin Lawrence their break-out film roles, the film also stars recently passed and legendary actress Ruby Dee, late comedian Robin Harris and iconic, all-around entertainer Ossie Davis.
As the panel jibed and joked on-stage, their easy comradery and affection towards one another was apparent. The stage could have been a living room for how familial they were, which began to make sense as Lee explained everyone's commitment and involvement in the film. Every cast and crew member was on set for every day of filming, regardless of whether they were scheduled to be on camera, even down to the most insignificant extra. This allowed for some of the now infamous improved scenes to be shot.
Fans of the film may be surprised to learn that the role of Smiley, played by actor Roger Guenveur Smith, was not in the original script. Lee, who had worked with Smith on his film School Daze, gave him an evening to read the script and make any suggestions for how he could be involved. This opportunity culminated in one of the most significant characters in the film, and also catapulted a little-known photo of Martin Luther King Jr. and Malcolm X into the mainstream, challenging the assumption that the two Civil Rights leaders had views that were diametrically opposed.
After a few final words, and emphasizing the fact that, "Filmmaking is mother f*cking hard," Lee introduced the film, which was preceded by a surprise recording of our President Barack Obama and his wife, Michelle Obama, who congratulated Lee, spoke on the film's significance, and about their first date, which included a viewing of Do The Right Thing, and according to Michelle, helped seal the deal.
Considering that I was only a toddler when the film was originally released, I definitely appreciated seeing it theatrically with an involved audience. Enthusiastic hoots and hollers echoed in the theatre when Rosie Perez appeared in the opening credits, dancing with attitude to Public Enemy's "Fight the Power." We clapped enthusiastically as various characters – Mother Sister, Da Mayor, Radio Raheem – were introduced, and during the more somber moments, were silent with contemplation, realizing how applicable the film still is in our current racial climate.
It's been at least a few years since I've seen Do The Right Thing, but it's impact was still fresh. The attitudes of characters like Pino, who holds open disdain towards people of color, are still familiar and encountered often; the frustration expressed by Buggin' Out at not being included on the "Wall of Fame" still permeates, and though we feel shame at his insistence, we recognize that desperation to be included, recognized. When a montage of characters interrupts a scene to bark various racial insults and slurs, I find myself flinching, wishing they were less familiar. The backdrop of a sweltering hot day is perfect in portraying how those subtle tensions eventually culminate and boil over violently.
Do The Right Thing differs from a lot of contemporary comedy-dramas, in particular those with controversial subjects, in that no character is cast as villain or savior. Despite taking place on an economically-disadvantaged block in Bed-Stuy, Brooklyn, the residents are not self-pitying or down-trodden. Instead, Sister Mother greets passersby cheerfully, children are content to splash in streams that jet out from fire hydrants, and the neighborhood drunk ambles along aimlessly but glad, taking it all in. It successfully highlights the dynamism of a culture we prefer to consider in black and white terms.
On the afternoon following our screening, Spike Lee continued the 25th anniversary celebration with a block party on the street where Do The Right Thing was shot. The event drew thousands, including celebrities like Erykah Badu, Wesley Snipes, and Dave Chappelle, who joked, "Just a few short years ago I was in this very neighborhood horrified! But bless you all and thank you for welcoming me."
As mentioned, The Academy will continue to honor Lee's exemplary filmography with a summer screening series that runs through the end of July. For more information and to purchase tickets, click here.
Although Lee's movies may have declined in popularity since his 1989 hit, 25 years later, Do The Right Thing still delivers a moving and candid portrayal of the residents on one Bed-Stuy block on the hottest day of the year.
Categories: Reviews